In a "normal" cycle of AfrikaBurn DPW is a crew of approximately 70 that comprises individuals with a broad range of practical event production skills ranging from rigging to carpentry, plumbing and electrical, metal work, painting in order to build a temporary city of art from scratch each year. The DPW development programme is based on a progressive process where individuals enter as general crew and are promoted through experience and ability, to sub-leads and department leads who form Hammer Council. Alongside Hammer Council is the DPW leadership team who look after the human resources, policy development, logistics and procurement, workshop and planning.
The DPW leadership team is currently majority female led and Hammer Council comprises a significant complement of young people. In the last two years it has worked diligently at becoming more inclusive of people of colour, actively recruiting through its arts community networks including eMzantsi and Cape Town Carnivals, as well as including diversity literacy training within Hammer Council development in order to support the process.
Alongside key competencies, the DPW crew are required by the very nature of the endeavour in a remote (130kms from the nearest town) and arid (the region is coming out of a 7 year drought) environment, to learn and practise a variety of soft skills – teamwork, innovative problem solving and communication skills, that build individual and collective resilience in order to thrive in demanding conditions. The combination of skills are increasingly relevant in a post COVID world and a "new normal".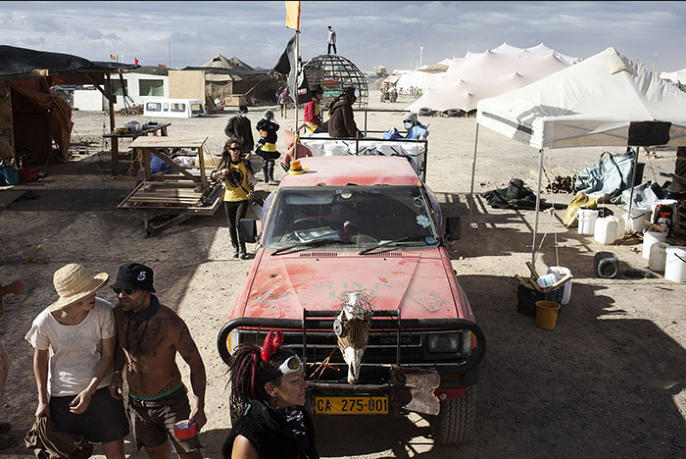 A urban Hammer School pilot will involve adapting a work-shadowing and mentoring process into a modular workshop programme as two-day introductory courses in the key artisan competencies e.g. carpentry, metalwork, painting, electrical, rigging. Learning to use new tools and equipment across different applications supports the general upskilling of emerging artists and transfers to the creation of visual art and in the set, production and technical support of performative art forms.
Within each two-day course, diversity literacy and self development exercises – individual reflection, group work and courageous conversations – will be integrated into the hands on practical skill transfer. This will provide the opportunity for engaging in critical thinking on key issues facing South African society – intersectional issues (gender, positionality, equity), wellness, COVID-19.
Both elements of the programme will be designed and implemented by senior trainers and facilitators who have considerable experience in the various disciplines. It is envisaged that the programme will run on a monthly basis, one weekend a month, with 6 workshops in total over the period January – June. This will allow for an extended period to recruit for the different workshops, it is a focussed intention to recruit young marginalised women to the programme. Each weekend workshop will have the capacity to take an average of 15 participants and we anticipate a total of 50 individual beneficiaires, with some joining more than one workshop weekend.
All COVID mitigation protocols will be followed during the workshops including – temperature screening on entry, hand sanitization, social distancing and wearing of masks, as required by the Government. This will include sanitizing tools and equipment.
We're looking for facilitators, learners, leaders and volunteers. Get in touch if our jam feels like it suits you.